It took two months before we FINALLY decided on a pre-nup location. I came across Ninoy Aquino Parks and Wildlife while reading through the posts in
W@W
. But I was disheartened when I saw the park's facade along Quezon Avenue. Mint green walls, with the bottom part carpeted with eewy moss. It looked more like a jungle than a park. So after more research, we discovered a better and prettier place -- The Orchidarium. But we were told that The Orchidarium will charge an entrance / pre-nup picture taking fee of around P1500 to P2000 since we won't be having our reception there. :( Since we didn't want to pay that much for the pre-nup location, we decided to settle for Parks and Wildlife.
It came as a pleasant surprise to me (us) when, upon entering the park, we saw that it wasn't so bad at all. There were families enjoying picnics, and couples snuggled up to each other, whispering sweet nothings into each other's ears. Sayang nga lang, because the park was not so well maintained. Grasses were not trimmed well, and the pond was in dire need of a community cleaning project. Still, with the help of our photographer, Gie, our pictures came out beautifully :) The photo shoot was awkward at first, with people staring at us while we posed for the camera. We eventually loosened up, and by the end of the session, I felt like I was a model on a commercial shoot. Hehehehe. Some of the kids even thought that we were models. HAHAHAHAHAHA!
Here are some of our pre-nup pics :)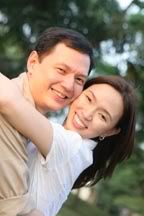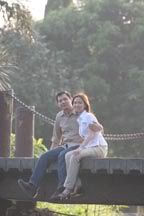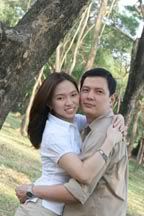 My brother thought some of the pics were taken inside a studio no! He thought they were backdrops. He couldn't believe that such a place existed, right here in the Metro.